A year-old survey by the Pew Research Center found that the main reason U.S. adults regularly go to church or any other house of worship is to feel closer to God (81%).
*** Disclosure: The post contains affiliate links through which I earn a small commission from qualifying purchases, at no cost to you.***
The other reasons cited include: a moral foundation for the children (69%), becoming a better person (68%), and finding comfort in times of trouble (66%).
That shows you the hunger of drawing near to God that is in all of us.
Ecclesiastes 3:11 puts it very well, "He has also set eternity in the human heart." We long to connect with God because of this reality. It drives our desire to get closer to Him.
Fia Curley notes that God has done everything necessary so we can come close to Him and rest in His presence. Because He wants to be close to us, He sent His Spirit to live inside us.
That is true because Jesus told his disciples he had to go so the Holy Spirit would come to them. Today, the Spirit is with us and in us (John 14:17).
Being close to God starts with a relationship with Jesus Christ (2 Corinthians 5:18).
The awesome benefits of drawing near to God are many and this article highlights 13. It also includes a plan and prayer to draw near to God daily.
What are these benefits of drawing near to God?
God will draw close to you.
"Draw near to God and He will draw near to you. Cleanse your hands, you sinners; and purify your hearts, you double-minded." -James 4:8 (NKJV)
God clarifies that your drawing closer to Him is not in vain.
He too will take steps towards you. Approach God with a pure heart because He is holy and desires holiness in you.
God knows we need His presence daily to feel His love, peace, protection, and care. He wants us to be secure in our relationship with Him.
We are to approach Him knowing that He rewards those who earnestly seek Him (Hebrews 11:6).
You will hear God with clarity.
"When he has brought out all his own, he goes on ahead of them, and his sheep follow him because they know his voice." -John 10:4 (NIV)
As you get closer to God, you get to know His voice.
You can distinguish it from other voices that compete for your attention. The voice of your desires, people's opinion, and the enemy clamor for attention in your mind.
You know the voice of God. The reason you recognize His voice is that He has put His Spirit in you. Spending time with God makes you sensitive to His voice.
Also See: 8 Reasons Why You Need A Prayer Journal.
Bearing fruit for God's Kingdom.
"Abide in Me, and I in you. As the branch cannot bear fruit of itself, unless it abides in the vine, neither can you, unless you abide in Me." -John 15:4 (NKJV)
God gives us His gift of salvation and sanctifies us so we can bear fruit for His Kingdom.
It is only when we abide in Christ always that we can bear lasting fruit.
God saves us so we can serve Him and do this we are to always be close to Him.
As you draw near to God, He prepares your heart for the calling He has upon your life. (Ephesians 2:10).
Aligning yourself to God's will for your life.
"Do not conform to the pattern of this world, but be transformed by the renewing of your mind.
Then you will be able to test and approve what God's will is—his good, pleasing, and perfect will." Romans 12:2 (NIV)
If you want to know God's will for your life, spend time with Him daily. You'll see your life from His perspective and not the world.
It's when you are near to God that you are content with where He is taking you because you trust Him.
The Apostle Paul was pursuing a self-appointed purpose before he had an encounter with Jesus (Acts 9:4-6).
From that moment, he headed to Arabia to preach the gospel. That's how dramatically your life can change when you are close to God.
You'll attain spiritual wisdom.
"But they could not stand up against the wisdom the Spirit gave him as he spoke." -Acts 6:10 (NIV)
Stephen was a godly man who had great wisdom from the Spirit of God. When you attempt to always be close to God, He gives you divine wisdom.
God fills you with spiritual wisdom that helps you navigate life on earth (1 Corinthians 2:12-14) such that you know what to do in every situation.
God's wisdom is in His word. With it, you'll be wiser than your enemies, have more insight than your teachers, and more understanding than the elders (Psalm 119:98-100).
The blessings of God.
"Blessed are all who fear the Lord, who walk in His ways." -Psalm 128:1 (NIV)
When you walk closely with God each day, He blesses you abundantly.
His blessings are always upon you and you don't have to do anything to deserve them.
God has promised that if you obey Him, blessings will overtake you.
You'll see his blessing in the work of your hands, the produce of your land, and your travels, among others (Deuteronomy 28:1-14).
Draw near to God daily to experience His blessings.
Prosperity.
"Submit to God and be at peace with him; in this way, prosperity will come to you." -Job 22:21 (NIV).
It's important for every child of God to prosper. This is how the world sees the glory of God. Prosperity applies to every area of your life, including your soul.
God promises that if you fear Him, you and your descendants will dwell in prosperity (Psalm 25:12-13).
He grants you prosperity in the fruit of your labor, the fruit of your womb, and in all you do. Even when you confess your sins you prosper (Proverbs 28:13).
God's plan is to prosper you as you walk this earth (Jeremiah 29:11).
Strength.
"I can do all things through him who gives me strength." -Philippians 4:13 (NIV)
God promises He will give you the strength to do what He asks of you. You don't have to do it in your own strength.
God knows your strength is not enough to walk out your salvation, and He comes to your rescue.
He promises to give you strength when you are weary and weak. You renew your strength when you hope in the Lord (Isaiah 40:29-31).
As you draw near to God, you will go from strength to strength.
Also Related:12 Proven Ways To Trust God Completely.
God will fill you with hope.
"Yes, my soul, find rest in God; my hope comes from him." -Psalm 62:5 (NIV)
When you see all that goes on around the world, it's enough to make you lose hope in a better future. When you are near to God, you always have hope (Psalm 71:14).
With God, you have hope that you will overcome every troubling situation in your life.
He will deliver you from all your troubles. With hope, you become very bold because God is with you. Hope in the Lord continually knowing He will never disappoint you.
Knowing the secrets of God.
"The secret of the Lord is with those who fear Him, And He will show them His covenant." -Psalm 25:14 (NKJV)
Closeness to the Lord means He reveals His heart to you. He shows you secrets others are not privy to.
God has always revealed His secrets to His servants. God revealed the secret of Nebuchadnezzar's dream to Daniel (Daniel 2:19).
Your relationship with God is through Jesus Christ. In Christ, God has hidden the treasures of wisdom and knowledge (Colossians 2:2-3) which are available to you.
An assortment of benefits.
"Praise the Lord, my soul, and forget not all his benefits—who forgives all your sins and heals all your diseases, who redeems your life from the pit and crowns you with love and compassion, who satisfies your desires with good things so that your youth is renewed like the eagle's." -Psalm 103:2-5 (NIV)
When you are in God's presence, you can't help but bless His name and praise Him for His awesome deeds. God is rich in benefits for all who stay close to Him.
God assures you of His restoration, healing, eternal life, and goodness all the days of your life. These things fill you with everlasting joy.
God has filled His word with the many benefits of drawing near to God. See if you can find more.
      12. Enables Us To Know God Better.
"But it is good for me to draw near to God: I have put my trust in the Lord GOD, that I may declare all Your works". (Psalm 73:2 )

To know our fellow men we must draw near to them.
We may know something of God from tradition — from nature — from a cold and critical study of the Bible; but to know Him more perfectly we must draw near to Him, and thus know Him in our own Christian experiences.

       13. Draw Away From The World.
"But it is good for me to draw near to God: I have put my trust in the Lord GOD, that I may declare all Your works". (Psalm 73:2 )
Our arms are too short for us to walk hand in hand with God and the world.
The great, clutched arms of the world are about us, and the loving arms of God are extended towards us, inviting us to come nearer to Him.

Daily Plan For Drawing Near to God.
Desiring to draw near to God is the easy part. The hard part is knowing how to do so. With a plan for your daily devotion time, you can enjoy God.
Developing a plan is easy when you know what needs to feature in it. With your plan in place, you can add resources to help you enrich your experience.
What are the main features of a daily plan?
Meditating on God's word:
"Keep this Book of the Law always on your lips; meditate on it day and night, so that you may be careful to do everything written in it. Then you will be prosperous and successful." -Joshua 1:8 (NIV)
For you to know God intimately, get into His word daily and meditate on it. This is a command He has given us. When you understand God's word, you will know His laws, not to mention His will for your life.
If you need help with reading the Bible, check out the Draw Near To God: 100 Bible Verses to Deepen Your Faith by Zondervan which has over 100 drawings near to God verses. You can also get a Bible reading plan on the YouVersion Bible App on your mobile phone.
Prayer:

"Devote yourselves to prayer, being watchful and thankful." -Colossians 4:2 (NIV)
It is God's desire that we devote ourselves to prayer because we get to dwell in His presence. Prayer is the doorway that sees God's will manifest on earth as it is in heaven.
Prayer is an avenue for pouring your heart out to God. When you are close to God, you know His heart, and praying His will becomes natural (John 15:7).
Keep a prayer journal and record your prayers and God's answers. A good book on prayer is A Better Way to Pray by Andrew Wommack.
Listen to worship music:

Worship the Lord with gladness; come before him with joyful songs. -Psalm 100:2 (NIV)
Worship ushers you into the presence of God. He is the one true God, and He loves us to worship Him in song.
Play some worship music before you read the Bible or pray as this prepares your heart to commune with God.
Focus all your attention on Him. Don Moen has an amazing collection of worship music on Amazon that helps you to enter the presence of God.
Let the Holy Spirit guide you in developing a plan for drawing near to God that is best suited to you. An extremely helpful book is Drawing Near: A Life of Intimacy with God by John Bevere.
Also See:25 Powerful Short Prayers To Pray During Hard Times.
Live A Victorious Christian Life
A Prayer for Drawing Near to God.
Are you looking for how to draw near to God? When you think about the time investment required to spend time with God, you may feel overwhelmed.
God promises that He will draw near to you when you draw near to Him. You can start with a prayer.
When you ask God for help, He will give you wisdom on where to start.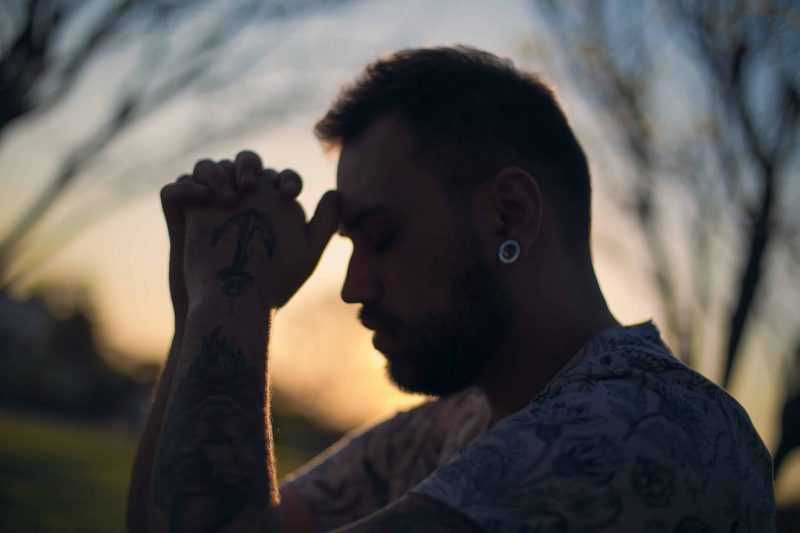 Here's a prayer to get you started:
Father, in the name of Jesus, I praise you and worship your holy name.
Thank you for the promise that if I draw near to you, you will draw near to me. I long to be in your presence where there is joy and gladness.
Show me how to draw near to You. Give me the wisdom to order my day so I will give you my best time before handling the cares of the day.
Teach me the best way to make the best use of my time with you. I yield myself to you wholeheartedly.
I thank you for I know You have heard my prayer. In Jesus' name, I pray. Amen.
Scripture references: James 1:5, 4:8
References
Pew Research Center (2018, August 1). Why Americans Go (and Don't Go) to Religious Services [Blog Post]. Retrieved from https://www.pewforum.org/2018/08/01/why-americans-go-to-religious-services/
Curley, F (2017, October 18). Drawing Closer to God [Blog post]. Retrieved from https://www.ihopkc.org/resources/blog/drawing-closer-to-god/
Zondervan. (2019). Draw Near To God: 100 Bible Verses to Deepen Your Faith (Kindle Version). Retrieved from Amazon.com
Wommack, A. (2007). A Better Way To Pray (Kindle Version). Retrieved from Amazon.com
Moen, D. (2003). God Will Make A Way: The Best of Don Moen (MP3 Version). Retrieved from Amazon.com
Bevere, J. (2006). Drawing Near: A Life of Intimacy with God (Kindle Version). Retrieved from Amazon.com
Scripture references retrieved from https://www.BibleGateway.com/
YouVersion Bible App retrieved from https://www.youversion.com/the-bible-app/
David
Is an Ordained Minister and Life Coach. He is an ordained minister since 1988. Shortly after receiving Jesus as his personal savior, he answered the call to ministry.
Live A Victorious Christian Life